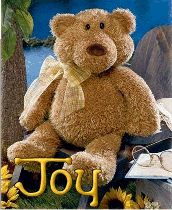 Below are some of my favorite faith builder sites:
These will open in a separate window so you don't lose your place here!
Read Through the Bible in a Year
Presidential Prayer Team - please consider joining!
Inspirational note cards for e-mail
Be an encourager - send e-cards!
"The 'U'" - not a link, but a favorite
Our Daily Bread - daily devotional
AAA Backgrounds - free backgrounds, clip art, etc.
Ask Jesus - free banners, blinkies, etc.