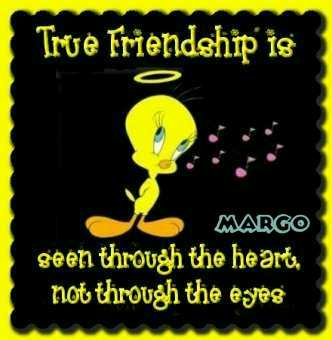 TRUE FRIENDSHIP
Hi everyone,
Again I am privileged to be able to share another wonderful poem by Joy Barber. I've known her for over thirty years now and believe me, she walks her talk! Some may remember that she is the one person in my life who loved me unconditionally. I firmly believe that I would not be "born again" today if the Lord had not used her to love me.
GOD BLESS YOU JOY!
love, Margo

"TRUE FRIENDSHIP"
IS A TREASURE
WE MUST VALUE HERE BELOW
FOR IT'S ALL WE HAVE
TO TAKE WITH US
TO HEAVEN WHEN WE GO

MAKE CERTAIN THAT YOU
TELL YOUR FRIENDS
HOW MUCH THEY MEAN TO YOU
BUT DON'T NEGLECT TO
TELL THEM HOW TO
GET TO HEAVEN TOO

IF THEY DON'T GET TO
GO WITH YOU....
BECAUSE YOU DIDN'T TELL
YOU'LL MOURN WITH GRIEF
(NOT FEEL RELIEF
BECAUSE YOU'RE SPARED FROM HELL)
BECAUSE YOUR FRIENDS
WILL BE CONDEMNED
TO GO DOWN THERE TO DWELL

BY SHARING HOW TO KNOW THE LORD
THAT GOD WAS SO GRACIOUS TO SEND
YOU'LL PROVE YOU LOVE CHRIST JESUS
AND....THAT YOU ARE
A TRUE, FAITHFUL FRIEND!

NEED A FRIEND?
BE A FRIEND!
by Joybellbarber


A friend loves at all times, and a brother is born for adversity.

Proverbs 17:17








I believe God intends relationships and friendships to be the context in which He does some of His most important work in our lives. Life is difficult from any perspective, and everyone needs friends to help them through the difficult times.





Those who have close friends know they couldn't live without them. Friends love you enough to confront you when you are wrong and to stand by you through thick and thin. These are friends who act toward you like a marriage partner is supposed to----for better or for worse. If you have a friend like that, you are rich. If you have more than one you are wealthy beyond measure. In today's world, many people do not take time to cultivate committed friendships; they are the poorer for it.





But the need for committed friends doesn't mean we should rush out and try to accumulate them on a wholesale basis. Many things in life are not left to our choosing, but friendships are. The choice of friends is more than a right, however----it is a responsibility.


NEED A TRUE FRIEND?
BE A TRUE FRIEND!