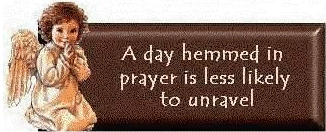 JESUS DOES UNDERSTAND
When I'm going through trials
that seem too hard for me...
I must stop and recall how
You faced....Gethsemene - - -
looking upward to God
wondering WHY You must do
what the Father above us
was asking You to!
Then I'll KNOW YOU'VE felt feelings
I've had......EVERY ONE - - -
and I'll say "Not my will, but
YOUR WILL- - - LORD, BE DONE!"
When I think I'm abandoned...
That nobody cares...
and perhaps even God up
above is not there....
to see what I am feeling
SO TOTALLY LOST...
I'll REMEMBER YOUR PAIN
as YOU HUNG ON THE CROSS
crying out "OH MY GOD.....
why have You FORSAKEN ME"
then I'll know YOU'RE AWARE
of these EMOTIONS in me!
When I feel too confused
to make sense of life's stress
I'll recall You are watching
and YOU SEE what's BEST
for my future....
You KNOW what is RIGHT
and YOUR PLAN
WILL work out
for my GOOD
and I'M SAFE.....in YOUR HANDS!
When I'm feeling discouraged
uptight, or depressed...
I'll remember
You're FAITHFUL, &
You hear each request
that I make when I pray
then....I'll just TRUST and REST
reassured You're in CHARGE
as I face every test!
LORD, I THANK YOU FOR SUFFERING
TO SAVE ME FROM SINS
AND FOR FEELING EMOTIONS...
THAT ARE DEEP DOWN WITHIN
EVERY HUMAN ALIVE - - - -
yes, YOU FELT THE DEEP PAIN
OF ABANDONMENT, CRUELTY,
AND REJECTION OF MEN
saying:
"FATHER, FORGIVE THEM
FOR THEY DON'T UNDERSTAND...
what they're doing"....to ME...
is a part of YOUR PLAN!"
FOR THE WHOLE WORLD TO SEE
THAT I DO UNDERSTAND...!