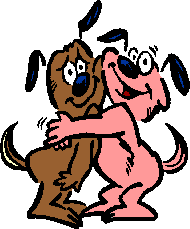 PRAYER.... FOR MY BEST FRIEND
LORD,
I'VE HEARD THEM SAY
A DOG IS MAN'S BEST FRIEND- - -
BUT THAT'S NOT TRUE...
'CUZ MOMMY TOLD ME
JESUS,
THAT MY GREATEST FRIEND, IS YOU!
YOU'LL NEVER RUN AWAY
AND YOU WILL NOT...
LEAVE ME ALONE
I KNOW THAT I CAN TRUST YOU
YOU WON'T BITE....
TO GET A BONE---
YOU'D NEVER EAT MY TOYS UP
AND YOU WOULD NOT SCRATCH OR CHEW
YOU'LL FAITHFULLY BE NICE TO ME
YOU'LL LOVE AND COMFORT TOO!!
MOM'S RIGHT LORD,
I COULD NEVER HAVE
A BETTER FRIEND THAN YOU!!!
HELP ME TO BE AS GOOD A FRIEND
AS YOU HAVE BEEN TO ME
SO MY LITTLE FUZZY BUDDY WILL
SEE I WILL ALWAYS BE
LIKE YOU DEAR JESUS
GENTLE, LOVING, TENDER, GOOD AND KIND
FOR THAT'S THE KIND OF FRIEND
THEY NEED....
JUST LIKE GOD HAD IN MIND....
WHEN HE SENT YOU!!!
AMEN